Please attach your Transcript of Grades in:
Recommendation Image
---
The D-8 International University Instagram account
| | |
| --- | --- |
| | |
---
The second meeting of D-8 International University's Focal Points and the first meeting of the Board of Trustees will be held in Iran's Ministry of Science, Research and Technology on 29 and 30 April 2019, respectively.
---
 D-8 countries will be world's new emerging economies by 2050

Ambassador Dato' Ku Jaafar Ku Shaari is the Secretary General of the D-8 Organisation for Economic Cooperation, an organisation for development co-operation among eight developing countries in the Muslim world, including Nigeria. In this interview during his recent visit to Nigeria, he explained some of the organisation's initiatives for Nigeria and other member countries in the area of health, industry, education, among others:
Recently, we established the D-8 International University in Hamadan, Iran, and we are looking for the first intake of masters and PhD students for 2019. We are asking governments of member states to support and sponsor at least five students a year for the programme for now. Later on, maybe we will expand it to more people.The university is not only meant for postgraduates, it is also for undergraduates and it is being developed to focus on science and technology and the economic field.
The first session of the D-8 International University's Focal Points was held in Hamedan on 10-11 December 2018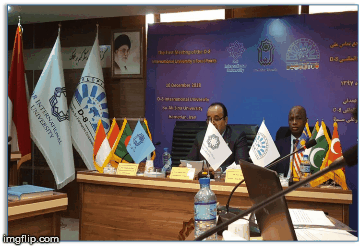 Working Modality of D-8 International University was adopted at the 18th meeting of the D-8 Council of Ministers

The 18th meeting of the D-8 Council of Ministers took place on 3rd November, 2018 in Antalya, Turkey. The Minister of Foreign Affairs of Turkey, Mr. Mevlüt Çavusoglu, chaired the meeting and Foreign Ministers and delegations from all the D-8 Member States attended. This is the first session of the Council of Ministers to be held after the 9th D-8 Summit that was held in October 2017 in Istanbul, Turkey. The Council reviewed and discussed the latest and most important developments within the D-8 as well as the short and long-term goals, objectives and strategic plans.